WHITE LABEL
CRYPTO EXCHANGE
Merkeleon offers a comprehensive white label cryptocurrency exchange. Operators receive full-package support with acquiring licenses, opening bank accounts, installing software. Our company and trusted partners take care of all the essential components, ensuring a hassle-free experience for operators and users.
What Would You Choose?
Choose the solution that meets your business goals best. Our solutions are designed to meet your needs and empower you in the dynamic digital asset landscape.
Features of White Label Crypto Exchange
White label digital asset exchange offers a range of powerful features designed to meet the needs of businesses looking to launch their own exchange.
Android And IOS Apps

Integration With An Existing Cold Wallet

Fiat Payment Systems For Fiat Deposits And Withdrawals

An Admin Panel With Analytic Tools

Vouchers for inter-wallet transactions

QR code scanning

Cryptoprocessing and custody elements

1st line support ticketing system
How To Start Crypto Exchange Business?
With our white label cryptocurrency exchange, you can open business within 2 months. No need to invite legal experts, technology providers, compliance consultants. Start an efficient business now.
1-1.5 months
We start with obtaining licenses and opening a bank account to comply with the legal and financial practices of a jurisdiction.
2-3 weeks
We customize software to align it with your branding and user interface preferences. Then, we test it to ensure the platform's performance.
2-4 weeks
We integrate payment systems, implement KYC/KYT/KYB processes, connect liquidity providers. You can initiate this stage during software launch.
White Label Exchange Solution for Crypto Derivatives
With our white label crypto exchange software for derivatives, you can provide a comprehensive trading platform that includes margin trading, futures contracts, perpetual swaps.
Margin trading amplifies users' trading positions since they can borrow funds to increase their buying power. Through our development, you can offer users the opportunity to engage in margin trading with virtual currency, enhancing their trading experience and expanding your exchange's offerings.
Futures contracts allow users to speculate on price movements and enter into contracts to buy or sell assets at a predetermined price and date in the future. Users can benefit from enhanced trading opportunities, hedging strategies, and exposure to various cryptocurrencies through futures contracts.
Perpetual Swaps are derivative contracts that track the price of an underlying cryptocurrency. They enable users to speculate on price movements without an expiration date. Our white label exchange software supports perpetual swaps, allowing traders to engage in leveraged trading and benefit from rising and falling markets.
Enhance your exchange's capabilities, attract a wider range of traders, and position yourself at the forefront of the crypto derivatives market. Our robust and customizable white label exchange software ensures a seamless trading experience, backed by advanced security features and comprehensive support.
Choose our white label cryptocurrency exchange to unlock the potential of derivatives trading for your business.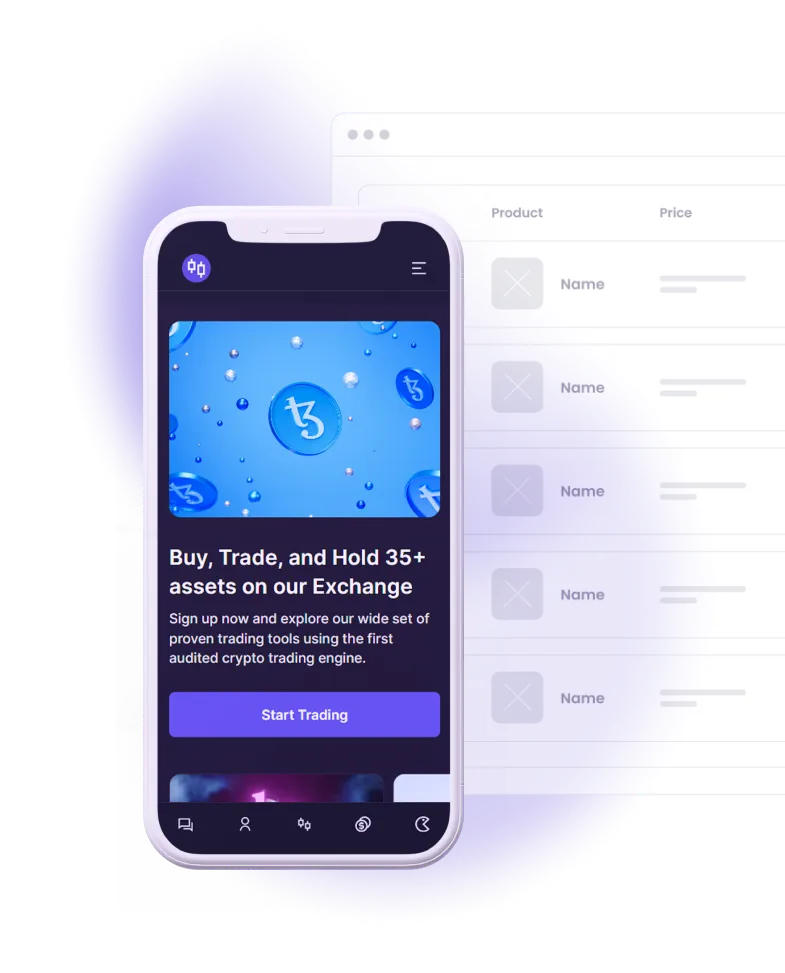 It's Time To Ride A Wave
Crypto Ecosystem – your way to be successful in 2023. Utilize your traffic to the maximum.

Big-League Gaming Provider For Entertainment
Business before pleasure, no doubt. But when the job is done, have your fun. As a keen visionary you can foresee clients' wants and meet them up-stream

Crypto Payment Processing System
High demand for cryptocurrency payments expands the number of crypto processors, all-in-one tools for fast and secure operations with crypto

Crypto Exchange Software Development
The first step to set up a cryptocurrency exchange is software, which besides huge returns for investors brings fruit for aspiring entrepreneurs

Full-Scale NFT Marketplace / Auction Add-Ons
Introducing a solution for NFT, you reach out to a bigger audience and bigger return. The same goes for auctions that also have an inherent thrill in them

World-Class Flexible Crypto Environment
Build your powerful high-yield enterprise. Install customizable innovative technologies to make your cryptocurrency ecosystem one-of-a-kind

Integrated E-Wallet To Use And Store Funds
Hardly can you underrate the significance of secure digital wallets. A convenient multifunctional safety vault is all that your clients can wish for
What is Merkeleon Like?
A well-orchestrated team of passionate professionals who build on their experience and facilitate technology
Versatile
Flexibility and multitasking move heaven and earth or, in business, foster strong and fruitful partnership
Qualified
Continuous learning is an innate part of achievement. We know it, we promote it, we exercise it
Inventive
As a product company we cherish the importance of being creative and are on an ongoing quest for fresh solutions
Supportive
We make it our goal not merely to deliver a working code but also to assist at every stage of implementation
1-st audited crypto exchange software - Stable operation - In the industry since 2009
Innovative implementation - Reliable launch within 2 weeks - Customizable software
Customizable software - In the industry since 2009* - Innovative implementation
testimonials
Merkeleon reviews: popular stories from our customers.
"Merkeleon was the first to react to my enquiries. They carried out a demo in no time. They addressed 75% of my needs out of the box. They were willing to invest and introduce the Arabic support. They provide the right training, payment gateway integrations and the right customisation."
"Alex and his team in Merkeleon are an outstanding tech / custom-dev solutions shop! They are the *true* FinTech and *true* Crypto experts who deliver end-to-end projects with any level of complexity. I really appreciate the white glove service provided by Alexey's team with everything from the technology decisions to the support of our business development strategies. Amazing experience! Highly recommend to anyone looking for a vendor who will work as if they are a business partner."
"We discovered Merkeleon about 3 years ago in the process of finding for a ready-made software solution tested by real business for our project. It is highly important for us to have the specifics of stable operation of the platform within heavy loads, as well as guaranteed uptime and SLA in terms of response time to any technical support requests, every minute of downtime costs a lot of lost revenue. The company's specialists have proven themselves excellent in launching our crypto-process business, as well as supporting it."


















If you have any questions, please feel free to contact us.