WHITE LABEL
CRYPTO EXCHANGE
DEVELOPMENT
Merkeleon offers a comprehensive white label cryptocurrency exchange. Operators receive full-package support with acquiring licenses, opening bank accounts, installing software. Our company and trusted partners take care of all the essential components, ensuring a hassle-free experience for operators and users.
What Would You Choose?
Choose the solution that meets your business goals best. Our solutions are designed to meet your needs and empower you in the dynamic digital asset landscape.
Features of White Label Crypto Exchange
White label digital asset exchange offers a range of powerful features designed to meet the needs of businesses looking to launch their own exchange.
Android And IOS Apps

Integration With An Existing Cold Wallet

Fiat Payment Systems For Fiat Deposits And Withdrawals

An Admin Panel With Analytic Tools

Vouchers for inter-wallet transactions

QR code scanning

Cryptoprocessing and custody elements

1st line support ticketing system
How To Start Crypto Exchange Business?
With our white label cryptocurrency exchange, you can open business within 2 months. No need to invite legal experts, technology providers, compliance consultants. Start an efficient business now.
1-1.5 months
We start with obtaining licenses and opening a bank account to comply with the legal and financial practices of a jurisdiction.
2-3 weeks
We customize software to align it with your branding and user interface preferences. Then, we test it to ensure the platform's performance.
2-4 weeks
We integrate payment systems, implement KYC/KYT/KYB processes, connect liquidity providers. You can initiate this stage during software launch.
White Label Exchange Solution for Crypto Derivatives
With our white label crypto exchange software for derivatives, you can provide a comprehensive trading platform that includes margin trading, futures contracts, perpetual swaps.
Margin trading amplifies users' trading positions since they can borrow funds to increase their buying power. Through our development, you can offer users the opportunity to engage in margin trading with virtual currency, enhancing their trading experience and expanding your exchange's offerings.
Futures contracts allow users to speculate on price movements and enter into contracts to buy or sell assets at a predetermined price and date in the future. Users can benefit from enhanced trading opportunities, hedging strategies, and exposure to various cryptocurrencies through futures contracts.
Perpetual Swaps are derivative contracts that track the price of an underlying cryptocurrency. They enable users to speculate on price movements without an expiration date. Our white label exchange software supports perpetual swaps, allowing traders to engage in leveraged trading and benefit from rising and falling markets.
Enhance your exchange's capabilities, attract a wider range of traders, and position yourself at the forefront of the crypto derivatives market. Our robust and customizable white label exchange software ensures a seamless trading experience, backed by advanced security features and comprehensive support.
Choose our white label cryptocurrency exchange to unlock the potential of derivatives trading for your business.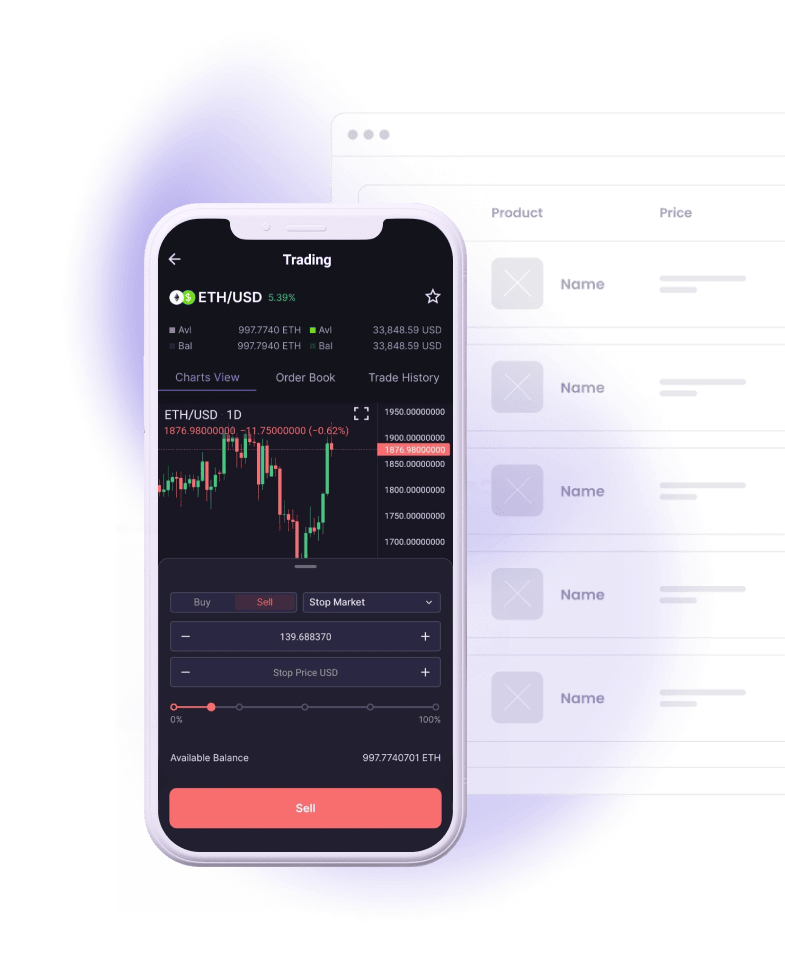 FAQ
What is White Label Crypto Exchange?
Merkeleon offers a comprehensive white label crypto exchange solution that empowers businesses to establish their own branded platform. With Merkeleon's white label solutions, operators gain access to a network of trusted partners and integrated service providers, such as liquidity, security, KYC/KYT/KYB providers.
The white label cryptocurrency exchange goes beyond development. Our assistance extends to guiding the authorization stage. We provide assistance throughout the licensing process, helping operators to navigate the regulatory landscape. This approach simplifies license acquisition and advances the launch of your business. 
Additionally, our company facilitates the process of opening a bank account, enabling seamless transactions for the exchange.
By choosing Merkeleon's white label solution, you can start an exchange platform within 3 months. We cover all essential aspects of launching and operating an exchange. Our integrated service providers, license assistance, support in opening a bank account create a seamless and efficient process for setting up an exchange. Together, we can establish the best virtual currency exchange.
How much does it cost to launch white label crypto exchange?
The cost of launching a white-label crypto exchange depends on factors such as the complexity of the platform, desired features, customization requirements, regulatory compliance, additional services. Here are key aspects:
Licensing and Legal Compliance:

Obtaining necessary licenses and ensuring legal compliance can involve costs related to legal consultations, regulatory fees and compliance procedures specific to your target jurisdictions.
Technology Development:

The cost of developing a white-label crypto exchange platform can vary based on the level of customization and complexity required. It typically includes front-end and back-end development, integration with third-party APIs, security features, order matching engine, wallet infrastructure.
Security Measures:

Building a secure exchange infrastructure is crucial. Implementing robust security measures, including encryption protocols, two-factor authentication (2FA), cold storage for cryptocurrencies and regular security audits, can add to the overall cost.
User Interface and Experience:

Investing in user-friendly and intuitive interfaces is essential for attracting and retaining users. Costs may include UI/UX design, responsive web development, mobile app development, user testing.
Liquidity Solutions:

Ensuring sufficient liquidity on your exchange may involve partnering with liquidity providers or implementing liquidity aggregation solutions. The associated costs can vary based on the liquidity providers' fees or the complexity of the aggregation technology.
Customer Support and Maintenance:

Providing reliable customer support and regular platform maintenance are ongoing costs to consider. This includes hiring support staff or outsourcing support services and allocating resources for continuous platform updates and bug fixes.
Marketing and Promotion:

Allocating budget for marketing and promotion activities to attract users to your exchange is crucial. This may involve digital marketing campaigns, influencer partnerships, content creation, brand awareness initiatives.
The cost of starting a white-label crypto exchange can range from tens of thousands to hundreds of thousands of dollars or more. Engaging with a professional development team or consulting firm experienced in crypto exchange development can help provide a more accurate cost estimate grounded on your needs and goals.
What types of crypto projects are popular in 2023?
The cryptocurrency market is a dynamic phenomenon. Its trends can change rapidly. It's always recommended to investigate the market and stay updated with the latest developments. 
In 2023, it is wise to launch an ecosystem that will unite several crypto projects in one environment. A crypto ecosystem refers to the network of interconnected platforms, projects and participants within the cryptocurrency industry. It encompasses various entities, technologies, and services that support the creation, trading and utilization of cryptocurrencies. 
While components can vary, here are common elements found in a crypto ecosystem:
Cryptocurrency Exchanges:

These platforms facilitate crypto trading. They provide infrastructure for users to exchange one cryptocurrency for another or convert cryptocurrencies to fiat.

Crypto Wallets:

With wallets, users can securely store, send and receive digital assets. They come in different forms, including desktop, mobile, or web-based.

Payment Gateways:

Crypto payment gateways enable merchants to accept cryptocurrencies as a form of payment for goods and services. These gateways facilitate the conversion of cryptocurrencies into fiat currencies or other accepted forms of payment.

Online Auction Platform:

Businesses and individuals can host auctions in a digital environment. The platform may support various auction formats: classic auctions, reverse auctions, penny auctions, etc.

Non-Fungible Tokens (NFTs):

NFTs have experienced a surge in popularity, providing the ownership and trading of unique digital assets. NFTs have been predominantly used for digital art, collectibles, virtual real estate, in-game assets.
For specific information about Merkeleon's crypto ecosystem, please contact us.
How will the crypto market evolve in 2023-2024?
It is challenging to provide a precise prediction of how the crypto market will evolve. However, based on historical trends and ongoing developments in the crypto space, we can predict potential direction for evolution:
Continued Institutional Adoption:

Institutional interest in cryptocurrencies has been growing, with major financial institutions and corporations entering the space. This trend may continue, as more institutions recognize the potential of digital assets and blockchain technology.

Regulatory Frameworks: Regulatory bodies are actively working to establish frameworks for cryptocurrencies: MiCA, VARA. Increased regulation could provide more clarity and stability to the market, attracting institutional investors while ensuring consumer protection.
Integration of Central Bank Digital Currencies (CBDCs):

Several countries are exploring the concept of CBDCs. In the coming years, we may see increased experimentation and pilot programs, potentially leading to the integration of CBDCs into the financial systems of some nations.

Sustainability and Energy Efficiency:

Environmental concerns related to cryptocurrency mining have gained attention. As the industry matures, there may be a greater focus on developing sustainable mining practices and energy-efficient consensus mechanisms.

Evolution of Privacy Solutions:

Privacy remains an important aspect of cryptocurrencies. Projects focusing on privacy-enhancing technologies, such as zero-knowledge proofs and confidential transactions, may evolve and gain prominence.
The crypto market is highly unpredictable, and various factors can influence its evolution in the coming years. It's advisable to stay informed, conduct thorough research and consult credible sources for the most up-to-date information on the crypto market.
What is the difference between white label & exchange software solution?
The two solutions follow different approaches to establishing a cryptocurrency exchange:
It is a pre-built ready-to-use package solution provided by a third-party company. With a white label solution, you can launch your own branded crypto exchange quickly and easily without having to develop the entire infrastructure from scratch. The white label provider has the core functionalities, user interface, other essential components, which can be customized and branded according to your requirements. On top of that, this provider assists you in marketing, legal and technical issues. 
It refers to a more comprehensive approach where you get the exchange software only. In this case, you have complete control over the development process. Your team tailors every aspect of the exchange according to your specific needs. Such an approach is more time-consuming. Moreover, you have to tackle marketing, authorization and technical maintenance on your own.
In summary, a white label solution provides a package solution that can be installed within 3 months. On the other hand, a software solution is a more independent strategy whose implementation will consume from several months to a year.
It's Time To Ride A Wave
Crypto Ecosystem – your way to be successful in 2023. Utilize your traffic to the maximum.

Big-League Gaming Provider For Entertainment
Business before pleasure, no doubt. But when the job is done, have your fun. As a keen visionary you can foresee clients' wants and meet them up-stream

Crypto Payment Processing System
High demand for cryptocurrency payments expands the number of crypto processors, all-in-one tools for fast and secure operations with crypto

Crypto Exchange Software Development
The first step to set up a cryptocurrency exchange is software, which besides huge returns for investors brings fruit for aspiring entrepreneurs

Full-Scale NFT Marketplace / Auction Add-Ons
Introducing a solution for NFT, you reach out to a bigger audience and bigger return. The same goes for auctions that also have an inherent thrill in them

World-Class Flexible Crypto Environment
Build your powerful high-yield enterprise. Install customizable innovative technologies to make your cryptocurrency ecosystem one-of-a-kind

Integrated E-Wallet To Use And Store Funds
Hardly can you underrate the significance of secure digital wallets. A convenient multifunctional safety vault is all that your clients can wish for
What is Merkeleon Like?
A well-orchestrated team of passionate professionals who build on their experience and facilitate technology
Versatile
Flexibility and multitasking move heaven and earth or, in business, foster strong and fruitful partnership
Qualified
Continuous learning is an innate part of achievement. We know it, we promote it, we exercise it
Inventive
As a product company we cherish the importance of being creative and are on an ongoing quest for fresh solutions
Supportive
We make it our goal not merely to deliver a working code but also to assist at every stage of implementation
1-st audited crypto exchange software - Stable operation - In the industry since 2009
Innovative implementation - Reliable launch within 2 weeks - Customizable software
Customizable software - In the industry since 2009* - Innovative implementation
testimonials
Merkeleon reviews: popular stories from our customers.
"Merkeleon was the first to react to my enquiries. They carried out a demo in no time. They addressed 75% of my needs out of the box. They were willing to invest and introduce the Arabic support. They provide the right training, payment gateway integrations and the right customisation."
"Alex and his team in Merkeleon are an outstanding tech / custom-dev solutions shop! They are the *true* FinTech and *true* Crypto experts who deliver end-to-end projects with any level of complexity. I really appreciate the white glove service provided by Alexey's team with everything from the technology decisions to the support of our business development strategies. Amazing experience! Highly recommend to anyone looking for a vendor who will work as if they are a business partner."
"We discovered Merkeleon about 3 years ago in the process of finding for a ready-made software solution tested by real business for our project. It is highly important for us to have the specifics of stable operation of the platform within heavy loads, as well as guaranteed uptime and SLA in terms of response time to any technical support requests, every minute of downtime costs a lot of lost revenue. The company's specialists have proven themselves excellent in launching our crypto-process business, as well as supporting it."


















If you have any questions, please feel free to contact us.